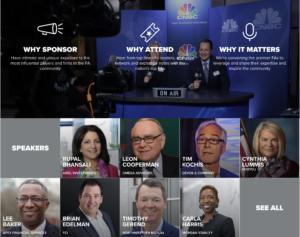 Link to CNBC FA Summit: The Innovative Advisor
On June 29, 2021, the CNBC Financial Advisor Summit brings together forward-thinking advisors to hear from industry heavyweights about the state of the markets and to learn new and innovative ways to address the needs of their clients and their firm.
Selected for his cybersecurity expertise and business leadership, Brian Edelman will join Jim Pavia, CNBC Money Editor, as a featured speaker for a main-stage event, "Changing the Locks: Cybersecurity Compliance."
In this cybersecurity session, Brian will explain to Financial Advisors how to ensure their firm is meeting key compliance regulations, give advice on how to best select cybersecurity services, and offer ideas on how to provide above-and-beyond protection for clients and their wealth.
Following the main event, Brian will participate as a featured guest in the "FA Exchange: Cybersecurity Solutions" where he will engage with attendees to share his expertise about the application of cybersecurity within Financial Services.