FCI provides the Government sector with cybersecurity solutions that solve the last mile of regulatory compliance and information security policy adherence for consistent enforcement of controls and evidence of compliance.
The cybersecurity posture of contractors is an area of focus and ongoing regulatory development for the government. With over 220,000 contractors, the government is one of the largest holders of personal identifying information (PII) and data, which makes it a desirable target for hackers.
Goverment initiatives like the DoD's Zero Trust Architecture, CMMC requirements and ongoing vendor/supply chain risk management, make cybersecurity protection and compliance that much more critical.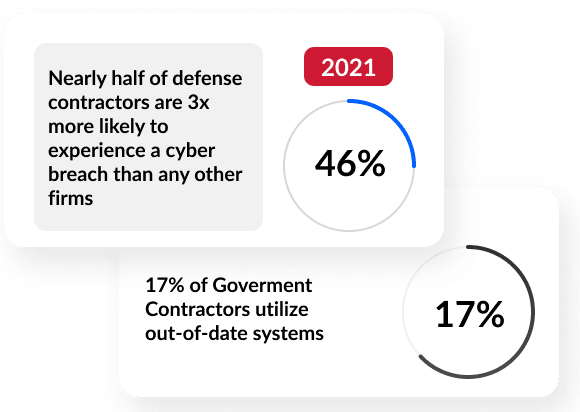 The Rise of Cyber Attacks
Cyber attacks are crippling many Government Contractors, resulting in massive operational disruption and costing millions in recovery efforts. Additional risk factors that have contributed to the increasing attacks include human error and an evolving threat landscape.
Zero-Trust Managed Cybersecurity Services
Answering Specific Government Requirements
A solution that augments and adapts to teams, skill sets and systems already in place ​
Co-Managed Cyber Services
How FCI partners with
Enterprises, internal IT teams, and MSPs
Cybersecurity experience counts when cyber threats occur
Customized Policy & Control Solutions
We work with Government Contractors to ensure cyber protection and consistency based on your security policies and goals.
Extended Cyber Team Support
As cyber experts, we keep a continuous pulse on the industry and regulations to update you with changes. We are ready to assist at any point when duty calls.
Leverage a dedicated team with hundreds of thousands of incident, breach, and regulatory experiences – range matters.
Are you prepared for a cyber audit?
At any time, regulators, authorities, and cyber insurers can knock at your door and ask for evidence of compliance. With a short complimentary call with FCI, we will let you know if you are ready for it.
Request a Cyber Audit Preparedness Call​