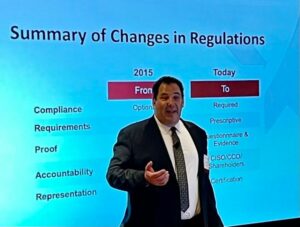 Brian Edelman joins the Center for Tax, Strategies & Resources (CTSR) Orlando Academy February 9–11, 2022 as an Academy Speaker addressing member attendees who will receive 3-days of curated industry knowledge covering advanced strategies, tools, techniques, and more!
Presenting on the Evolution of Cybersecurity Regulations & Bad Actors, Brian will offer a summary of regulatory changes providing comprehension of developments leading to current requirements that protect those who adhere to them.
Then, illustrating the value of regulations as they've come to be, Brian shares an inside look into the true story of a breach with illuminating details sure to grip the attention of attendees!
Tying together regulations and the importance of a strong cyber program Brian will deliver 4 Steps to Cybersecurity Compliance and an actionable cyber checklist available in FCI's Leadership Guide to Cybersecurity.
Cybersecurity Expert Brian Edelman is honored to be part of the esteemed line up of event speakers and contribute to the advancement of cybersecurity amongst CTSR membership.
Learn more about the CTSR Orlando Academy: https://www.centerfortaxstrategiesandresources.com/theacademy/
The Center for Tax, Strategies and Resources is a membership organization that provides a platform for understanding of and competence in advanced strategies, tools, and techniques.
At the direction of Founder, Simon Singer, CTSR offers its membership access to industry-leading information to grow their practice and reach their highest potential through training, marketing, coaching, and networking.