Brian Edelman will join host Eamon Javers, CNBC Senior Washington Correspondent, as a featured cybersecurity speaker for the 2022 Financial Advisor Summit on Dec 6, 2022.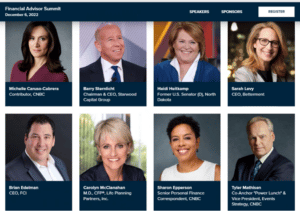 "Securing Your Savings" is a panel discussion that every firm and Financial Advisor that oversees retirement plans will not want to miss! Brian will address the cyber risks and safeguards that all advisors should have in place to protect a firm and its clients as well as meet regulatory compliance.
In alignment with the focal point of the event, Recession-Proof Strategies, Brian will share techniques and tactics for architecting cybersecurity to insulate against cyber threats now and into the future. For more information and to register: https://www.cnbcevents.com/financial-advisor-summit-december-2022/
December 6, 2022 update:
Watch the CNBC FA Summit "Securing Your Savings" interview here: https://www.cnbc.com/video/2022/12/06/securing-your-savings.html
About CNBC Financial Advisor Summit
The CNBC Financial Advisor Summit brings together advisors from the country's top firms to hear from financial industry heavyweights about the state of the markets and economy, and to discover new opportunities and ways they can address the increasingly complex needs of their clients.